Summary
Principles of garden/pool design
Shrubs and hedges near your pool
Perennials around your pool
Grasses to surround your pool
Garden and swimming pool: think about roses
A swimming pool is loved not only as a place to relax, but also for its aesthetics, especially if it is surrounded by a well-designed garden. Nothing is more enchanting than a swimming pool with sparkling water set in a well-chosen setting of vegetation!
Principles of garden/pool design
Some principles:
The plants surrounding your pool must be able to withstand full sun, be robust and easy to maintain.
Always plant at a certain distance from the pool to avoid shading and polluting it.
Yellow flowers are particularly bright around a pool and look great alongside blue blooms. White gives elegance, pink, and chamois give a warm note.
Shrubs and hedges near your pool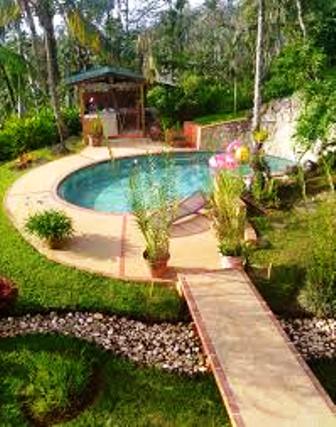 In general, near a swimming pool, it is better to plant shrubs rather than trees: the latter would shade your pool and let too many leaves fall into the water.
On the contrary, shrubs, and even a real hedge around the pool have two great advantages:
– they shelter the pool from the prevailing winds,
– they isolate you from the neighbors and allow you to feel at home in your pool amidst the plants.
For the choice of shrubs, think about the:
Evergreen shrubs: privet for pruned or free hedges, Mexican orange tree with fragrant white flowers; escallonia with pink or red flowers; photinia with shiny leaves, oleanders in the South, etc.
Flowering shrubs with summer bloom: weigelias, buddelias, abelias, sky blue ceanothes, etc.
Perennials around your pool
Be sure to count on solid values: lavender, perovskias and blue nepetas, yellow coreopsis and helianthus, gauras with white butterflies, santoline with yellow pompoms, daylilies with lilies of all shades, etc.
Grasses to surround your pool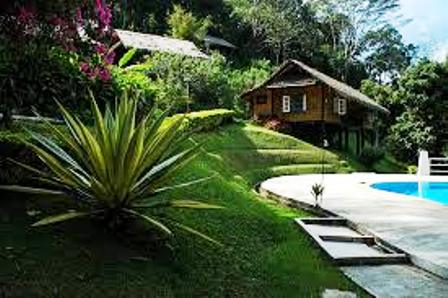 Grasses are interesting for their varied heights, their flexibility and the naturalness they bring to the area around the pool. Choose large miscanthus and small caressing grasses, such as stepa tenuifolia with soft angel hair, etc.
Garden and pool: think about roses
We don't always think about it, but bush or ground cover roses provide a sumptuous setting for a swimming pool. To be mixed with perennials and grasses, the roses will be chosen from those that bloom in summer.
Selection of Bush Roses and Shrubs
Buff beauty, with its large musk roses and yellow chamois.
Golden nuggets – a vigorous bush with golden yellow flowers, even brighter when surrounded by lavender or blue nuggets.
Felicia, whose apricot-pink bud opens into a soft pink tinged with salmon.
Heatwave, which is covered all summer long with semi-double, medium sized, butter-yellow flowers.
Centenary of Lourdes, crumbling under an avalanche of flowers in large pale pink bouquets.
Snow fairy, pure white, magnifying the brilliance of your pool.
Selection of ground cover roses
A fresh and white swimming pool can be covered with single flowers of a shiny and healthy foliage.
In the same genus, Flying Carpet does wonders in pale pink.
Where to find a landscape contractor in Suffolk County?
The landscaping of a garden is better entrusted to a professional who is used to assisting commercial and residential property owners with their landscaping needs. You can get in touch with Libardi Island Landscaping Corp. With more than 20 years of experience, they specialize in driveways and walkways, patios and poolscapes, retaining walls, and landscape and hardscape design.
Remember to leave your comments and share your experience with our readers!