Are you thinking about your wedding? Wondering how to organize your reception venue, seating arrangements, and especially the decorations? Flowers are an integral part of a wedding, be it the bride's bouquet or the floral decor. Discover some of the most beautiful flowers that can be used to decorate tables at your wedding.
Flowers That Add a Romantic Touch
Roses 
It's not surprising that this particular bud is a favourite among couples. From the bouquet and centrepieces to the stage decorations and floral installation, roses are undoubtedly one of the most common flowers people love to have when it comes to weddings. Incorporating roses for your wedding decoration does not only glam it up but also adds meaning to it since roses are a symbol of love and new beginnings. Moreover, they are available all year round, meaning that you can have the freshest roses whenever you're tying the knot! One of the easiest ways to use roses for your table setting is to have them placed in beautiful vases or centrepieces. You could also have the petals lightly scattered on the table. Classic, modern & simple!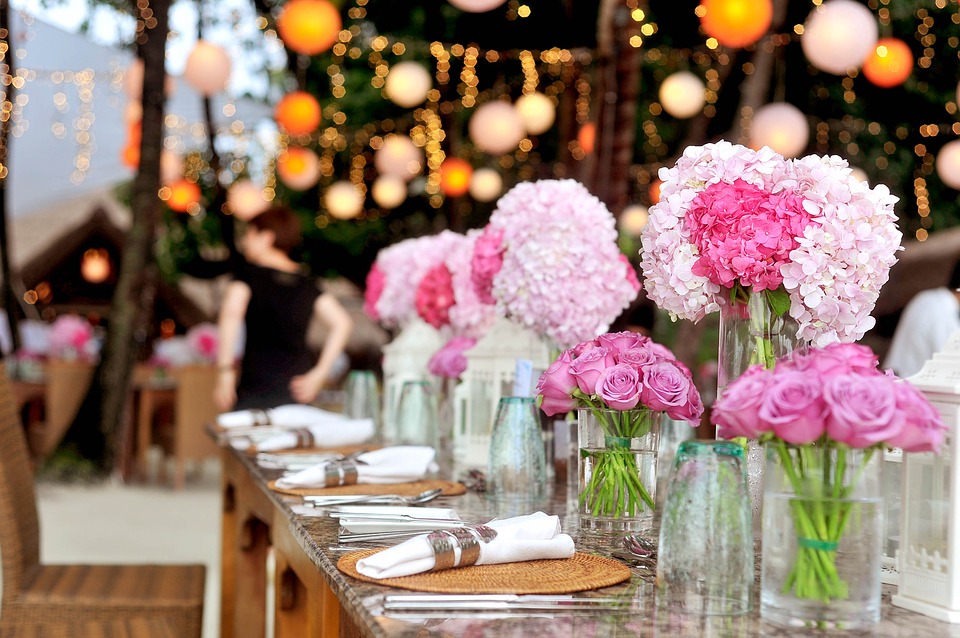 Peonies
The peony is popular for the size of its flower bud. It will do wonders in floral arrangements with a vintage spirit. You can thus place it in large porcelain vases or other silver containers. Roses and white peonies also go well with other flowers such as hydrangea or dahlia.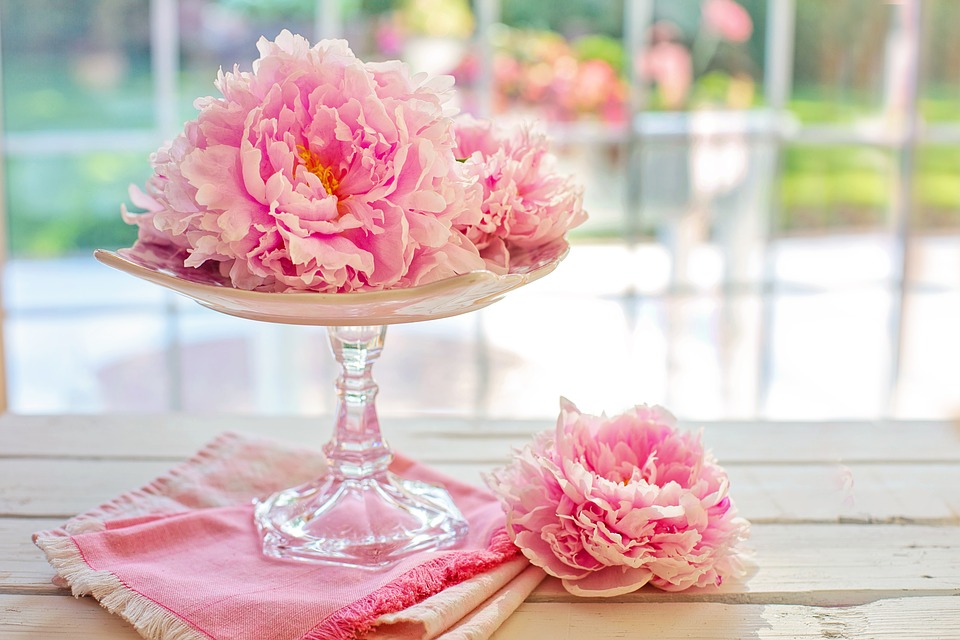 Flowers With Long Stems
White Lilies & Arum Lilies  
Choose long flowers if you want to create a designer table decor. Flowers with long stems like arum, white lily or amaryllis will easily blend in compositions with a modern spirit. Highlight the curve of the flower by gently placing it in a transparent vase. You can also slide in arum lilies in large jars or test tube vases. Consider submerging the stems in a vase filled with water. With water, this will create a surprising and magnifying glass effect!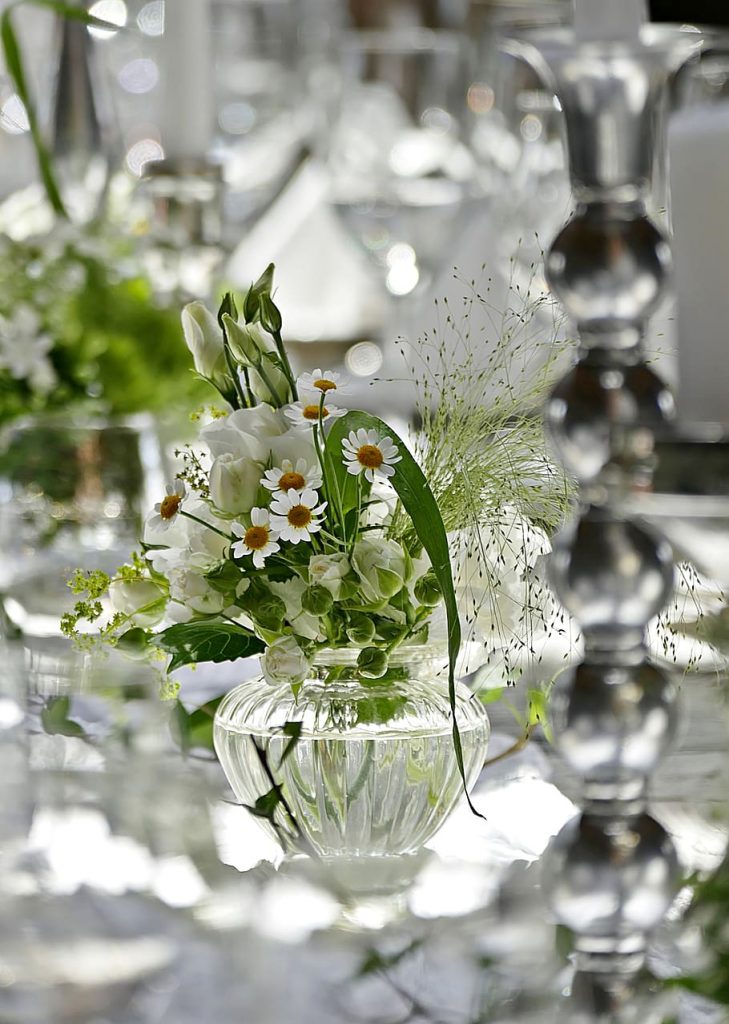 Tulips
Tulips can also be used for a composition of refined flowers. You can display some tulips in designer vases or even make bouquets. With its colours and spring feels, tulips will bring a touch of cheerfulness to your wedding.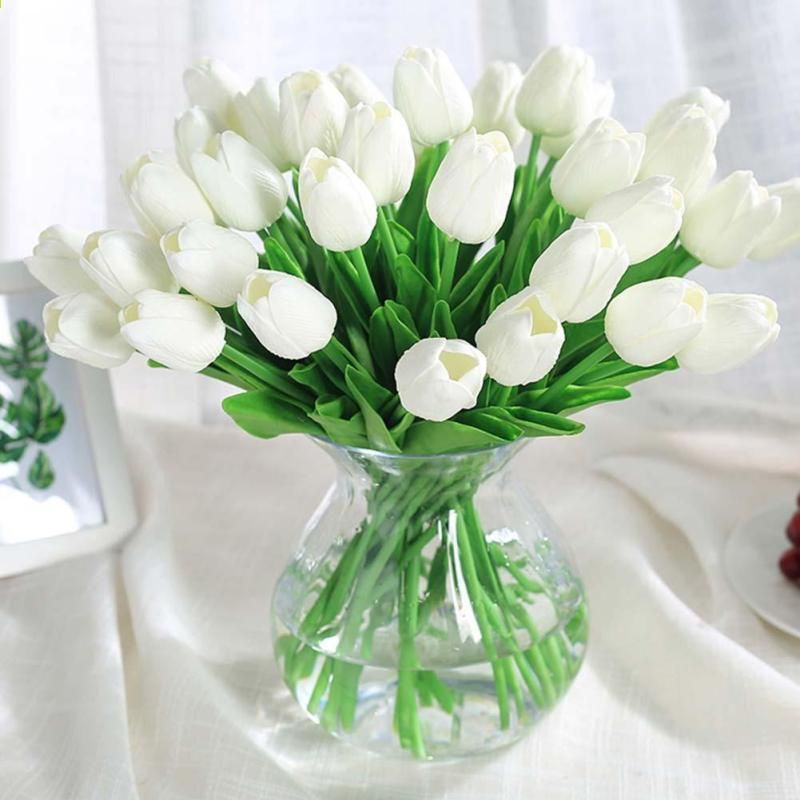 The Asian Flowers
Add an Asian touch to your wedding by choosing alluring orchids. All you have to do is combine the orchids with minimalist items to enhance the grace of this exotic plant. Clear or simple coloured glass vases will be enough to transform your table setting with stunningly gorgeous orchids. To enhance the orchids, use containers with original shapes such as jars, stemware vases or tube vases. Play with the heights and shapes by displaying vessels of varying sizes. You can also add some bamboo stems with the orchids, which further amplifies the Asian element.
 Rustic Flowers
Sunflowers
If you want a countryside vibe to your wedding, choose rustic flowers! For instance, large sunflowers arranged in a low vase will bring a bright touch to your table decoration. Sunflowers make wonderful centrepieces on their own, but you can also pair them with some soft baby's breath flowers and mild greenery. These tall, yellow and vibrant flowers are sure to make everyone smile! 
Lavender
Lavenders are also perfect for weddings. These flowers are more than just aesthetically pleasing. Besides looking beautiful, lavenders smell incredibly good, which can also help in relaxing yourself before you walk down the aisle. Moreover, they are inexpensive and symbolic of fidelity, making it excellent for a wedding theme. Some beautiful stems of lavenders on their own or paired with other plants on the table can take the wedding décor on a whole new level!
Cacti Arrangements
Who would have thought that even cactus can be on the table of newly-weds! Generally, people try to avoid prickly items, but these plants make a unique wedding décor! Since they are available in a wide range of shapes, sizes and colours, you can mix and match different types of cactus such as parry agave, prickly pear and echinocactus and create a pleasant décor. For instance, the tiny ones can be used to adorn small spaces like the area around the dinner buffet. Moreover, they are incredibly heat-tolerant, making it ideal if your wedding is around summertime. You won't have to worry about them drooping or wilting throughout the day!
Floral decorations are essential for a wedding! Freshness, colors, romance and nature, that's what flowers bring to a wedding decor. They come in different sizes, colours, shapes and can effortlessly match with any wedding theme! If you're a bride or groom who has a love for unique and creative floral decors, Covers Couture Décor & Floral Design has got everything you need for a magazine-worthy wedding! Whether your wedding theme calls for pastel blooms, hot pink flowers or some, Covers Couture Decor & Floral Design can also give your marriage ceremony the wow factor with luxury floral arrangements.