This is a continuation of our article on Beautiful Flowers That Blooms Quickly in Your Garden. In the first part of our post, we learned more about Blueberries, Marigold, Cosmos, among others. And today, we bring you more ideas on the types of flowers that you can grow easily and quickly! Happy gardening.
Nasturtiums
Round nasturtium seeds are easy to plant and germinate. Typically, lush greenery appears first, followed by bright flowers that bloom continuously. Nasturtiums can be eaten whole, even their seeds, which some people eat instead of capers. Nasturtium seeds are planted in the garden when the soil is already slightly warm. The seeds will germinate faster if you soak them before planting. They germinate better in poor soil with regular watering.
Germination: 7-10 days
Blooms after: 55-65 days
Nursery Black Grain (Latin: Nigella damascena)
Another name for nursery black grain is the virgin in greenery, which accurately describes the black grain flowers sinking in the thin green leaves. Black grain seeds are planted in early spring, sprinkling the ground with them, because they need light to germinate, so they cannot be filled with earth. This plant usually needs to be replanted again to extend the flowering period, especially if you want the stems to mature on the stems. Often, black grains multiply by sowing on their own, so there is no need to think about buying new seeds. The flowers are made into beautiful bouquets, and the husks are used to decorate and compose the ikebana.
Germination: 10-15 days
Blooms after: 65-75 days
Poppies (Latin: Papaver)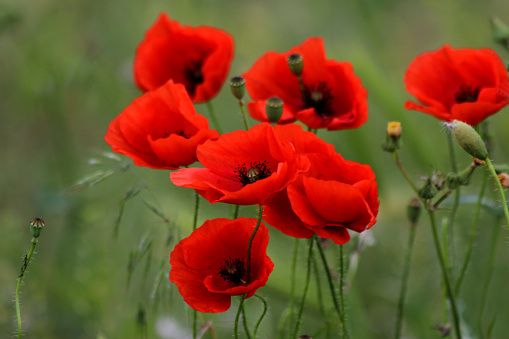 Poppies are annuals and perennials, but in any case it is interesting to observe how the poppy buds bloom and how these flowers bloom. Annual poppies do not like transplanting, so it is best to plant them directly in the soil. This is usually done in early spring, sometimes before the soil thaws. The seeds need light to germinate, so do not cover them with earth, but it is worth pressing a little to make contact with the ground. Poppies germinate slowly, but as the weather warms, their growth accelerates. Most poppy species reproduce by selfing. Once the husks are dry, you can shake them over where you want the poppies to germinate. If the poppy sprouts too much, it is always possible to thin or remove the flowers to prevent the formation of husks.
Germination: 10-14 days
Blooms after: 60-70 days
Common Sunflower (Latin: Helianthus annuus)
Every gardener must grow at least one sunflower – watching the flower grow up to 1.5-2 m in your eyes is a special pleasure. The tallest plants usually grow only one flower, but quite large. If you want more rings, choose branched species. Sunflower seeds are planted in warmed, thawed soil. Young seedlings need to be protected, covered with animals and birds – possible with old germination blocks. Once the seedlings have strengthened, they will need to be protected from birds and squirrels. Tall plants with heavy flowers sometimes need to be tethered, and if you graft branched species, more flowers will grow.
Germination: 10-14 days
Blooms after: 75-100 days
Fragrant Pea (Latin: Lathyrus odoratus)
Fragrant pea does not like cold, but it likes coolness. In areas where spring is very short and a hot summer comes almost immediately, fragrant peas grow quite capriciously, so it is best to germinate these plants indoors a few weeks before planting in the soil. Fragrant peas can be grown like witches – roots in the shade and flowers in the sun. In warm countries, where there is no frost, fragrant peas are grown both in autumn and even in winter. Before planting the seeds are best scarified and soaked in water, otherwise you will have to wait a few weeks for them to germinate. It is best to choose aromatic species of peas that really give off an incredibly delicate aroma. Be sure to disengage the worn rings. When the seeds of the plant begin to mature, it immediately stops flowering. Fragrant peas are perfect for bouquets, so feel free to cut the flowers.
Germination: 10-28 days
Blooms after: 50-65 days
Now that you know which flowers to grow quickly and easily in your garden, which one have you decided to plant? Let us know your choice in the comments below.