Holidays are all about relaxing and escaping the hectic race of life! What better place to do those than a garden? Below are some of the most breathtaking gardens in the world. They even have a rich history which might surprise you pleasantly. Some of them have been destroyed by fire or natural disaster but luckily thanks to conservative efforts of many historians, they have been able to restore them to their original conditions.
1. Alhambra, Granada, Andalusia, Spain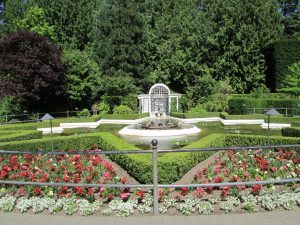 Dated all the way back to the 9th century, Alhambra is considered to be the oldest garden in Spain. A little fortress was built in that garden which was later destroyed. Luckily, it got restored in the 11th century. This area is listed in UNESCO World Heritage; Site as well. It covers nearly twenty-six acres of land. If you happen to be in Spain, visit this beauty.
2. Het Loo Palace, Apeldoorn, Netherlands
Designed in the 17th century by Claude Desgotz for King William 111 and Mary 11 of England, Het loo Palaces are Dutch words for Wood Palace. It is now a renowned state museum. The magnificent gardens cover six acres of land and were renovated between 1976 and 1982. You can visit this museum anytime around the year as it is always open.
3. Butchart Gardens, British Columbia, Canada
This is the most renowned garden in Canada. It is considered as a National Historic site of Canada and gets millions of visitors every year. The floral display gardens were designed by famous garden designer Isaburo Kishida in the early 20th century. After that, he went back to Japan. You will find multiple birdhouses and bronze statues there.
4. Brooklyn Botanical Garden, New York, United States
This garden is home to the Steinhardt Conservatory which has C.V Starr Bonsai museum which are three different pavilions of plants. Each of these pavilions has their own themed climate, iron, and glass aquatic plant houses. They also have an art gallery. This garden which 52 acres large was founded in 1910 and is home to many different gardens which has over 10,000 populations of plants. Millions of visitors come to visit these gardens every year.
5. The Garden of Versailles, Versailles, France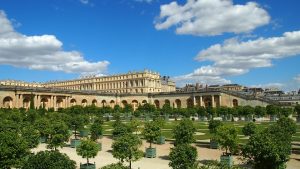 This is probably one of the most famous gardens around the world. It is home to more than 50 fountains and 200,000 different kinds of trees. You will find around 210,000 flowers which are planted every year. If the calculations are correct, the total land area amasses to nearly 1,977 acres. Many sculptures dated all the way back to Louis the X1V in the 17th century are found in that magnificent garden. If you happen to be in France, make sure that you add this destination to your tour.

6. Sitio Roberto Burle Marx, Rio de Janeiro, Brazil
Named after a very well known landscape designer Roberto Burle Marx, this garden is a 100-acre garden. Ro0berto Burle Marx was cherished in Brazil. He was world-renowned for his talented skills as a nature artist and as long as he was alive he has enjoyed a long life of successes. This garden holds many types of art which were adored by Marx. It is also home to over 3,500 plant species.
6. Nong Nooch Tropical Botanical Garden, Chonburi Province, Thailand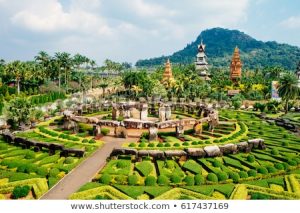 Filled with bright colors and unique designs, this 500-acre botanical garden always feels vibrant and alive. Originally this property was meant to be used for fruits plantation but the owners, later on, decided to use it to plant tropical flowers. In 1980, the garden was finally opened to the public and now considered as one of the most beautiful places on earth.
7. Kenroku-en Garden, Ishikawa, Japan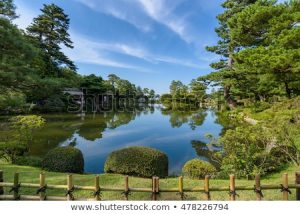 Considered as one of the three great gardens of Japan, this enclosure is 24.7 acres wide. It is a very old private (now open to the public) garden which dates back to the 1620s. However, a massive fire took place there in 1759 which nearly destroyed the entire garden. During the Meiji period, the garden was fully restored. Luckily, the fire did not manage to burn down the tree house which is still being used by people.
8. Villa d'Este, Tivoli, Italy
This garden was built in the 16th century and is now part of UNESCO world heritage, it was commissioned by Cardinal Ippolito 11 D'este. If you want to experience some Renaissance style architecture, this is the perfect place for you. This garden is an amazing work which has many marbled statues and buildings. It is filled with fountains and pools filled with water that is supplied by the Aniene River.
9.Keukenhof Gardens, Lisse, Netherlands
Keukenhof which means "kitchen garden" in dutch is a vibrant and colorful garden in the Netherlands. It is often known as the garden of Europe and is the world's second largest flower garden. The garden has approximately seven million flower bulbs and covers seventy-nine acres.