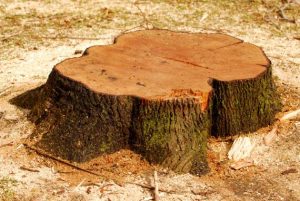 Are you planning to get rid of those tree stumps in your garden? Wait! Go through these beautiful stumps transformation below before making that decision. You have no clue of how many things you can make out of them. Let me help you give a boost to your creative mind!
1. Decorative Mushrooms Tree Stumps
Are you into carving? If yes, this idea is perfect for you. While browsing through the internet one day, I came across a site which gave tutorials about carving mushrooms out of tree stumps. It was such a cute idea that I decided to give it a try. My husband and I had a great time carving leg and mushrooms caps and painting them in an appropriate color. The best thing about them is that they don't just add aesthetic value to your garden, you can use them to sit as well. Isn't that innovative? I would totally advise you to try out this idea! You are going to love it.
2. Illuminated Tree Stump
If you don't have time to go camping, you can bring the camping atmosphere to your garden by adding some illuminated tree stumps. They add a brightening touch to your garden and are not hard to make especially if you are looking for something fun and unique. Once you have all your materials and supplies, making your illuminated tree stumps is not a difficult task. You can use LED lights to give a better lightning effect to your stumps.
3. Board Games for Kids
If you want your kids to play outside, why not entice them to do so? How to do so you ask? Paint board games on your tree stumps. Be creative! You can paint some rocks into bees and ladybugs to add more colors. It will be more interesting for the kids. Make a platform for some amazing ludo, checkers or chess battle. It will give your kids a break from smartphone and give them some nature moments.
4. Decorative art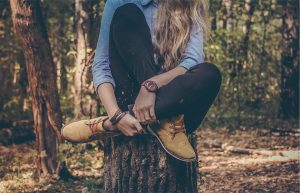 This idea will give you a chance to give a boost to your artistic side! Think of yourself as an artist or a painter. The aim is not to create a masterpiece, but something which represents you and your passion. Anything that will bring aesthetic value to your garden and a smile on your face is acceptable. Decorate your stumps by using patterns to make it more stylish and beautiful.
5. Garden Furniture
If you love wooden furniture, you are going to love this idea. You have no idea how many furniture you can carve out of stumps! The best thing about this furniture is that you can carve their styles and shape in any way you want. You can get yourself mini tables and stools to keep your garden pots or host garden parties. You can have your dinner table in your garden all free of cost and environment-friendly. You can enjoy dinner outside especially during summer.
6. Create a pot stand
If you don't want a garden, you can plant your flowers in pots and decorate your stumps. You can paint your stump to make it look more beautiful. You can color combine it with your flowers or the pots.
7. Design a fairy garden
Have you ever fantasized about having a fairy garden? Well, guess what? You can own one now. You can ask your children to help you with it. It will give them a chance to develop their artistic side. They are going to love it for sure. Let your imagination run wild. Make some huts, windows, doors, roofs, and staircase. Look for some figurines to complete the look of your mini garden. You can put some gnomes, butterflies, birds or cartoon characters to make it more attractive for the kids. A small island and magical house can also be part of your chef-d'oeuvre.
8. Make a tree stump planter
Make a small garden on your tree stumps by opting to make your own tree stump planter. These masterpieces look wonderful in your garden. You can put layers of flowers to add value to the beauty of your garden. You will find a lot of tutorials online on tree stump planter ideas.
9. An aged moss stump
Grow moss on your stump to give it an ancient look especially if your tree stump is old, dark and moist. Moss on your stump might also be a great preparation for festive seasons like Christmas or Halloween.
10. Garden Decor and Sculpture
Are you a DIY lover? This idea is perfect for you! For those who love carving, tree stumps are the perfect materials to express your imagination. You can craft amazing fairy tale characters, animals or tribal characters. Be creative and invent something unique.