Are you about to purchase a new garden chair? Then it is wise to think carefully about the different types of patio furniture available before enjoying the radiant sun. Here are some tips to help you out!
What Are the Different Types of Garden Chairs?
Garden chairs come in a variety of models and designs. Are you looking for a garden chair for your balcony, terrace, conservatory or garden? Below you will find an overview of the most popular models so that you can easily choose later.
1) Patio & Garden Chairs
With patio chairs, lunch or dinner in your garden becomes a party. This type of garden chair can be combined with a garden table. Besides, patio chairs are sold at different prices, making them available for every budget. Higher-end dining patio chairs naturally contribute to a more comfortable seating experience. Many are equipped with more elegant frames, types of materials, and seats. For those who value practicality, stackable and armrest types are ideal. In recent years, a very popular and trendy model of patio dining chairs has been the round shell and low backrest type.
2) Adjustable Garden Chair
The adjustable garden chair is one of the most popular garden chairs. This type of chair is also often referred to as a recliner because it can be adjusted to different positions. The armrests and backrests are the most common adjustable parts. Quality is a crucial factor in the durability of this chair. Intensive use and regular adjustment of this garden chair will help it last longer if stronger, more durable materials are used. When it comes to decoration, adjustable garden chairs are the right choice!
3) Stackable Garden Chairs
Stackable chairs are the solution when garden space is limited or when you need more garden chairs when relatives and friends visit. They can easily be stored in a shed or placed in the corner of the garden or balcony for visitors.
However, stacking chairs are often less comfortable than other types of garden chairs. But don't worry. In this case, decorative cushions not only improve seating comfort but also enhance the overall atmosphere.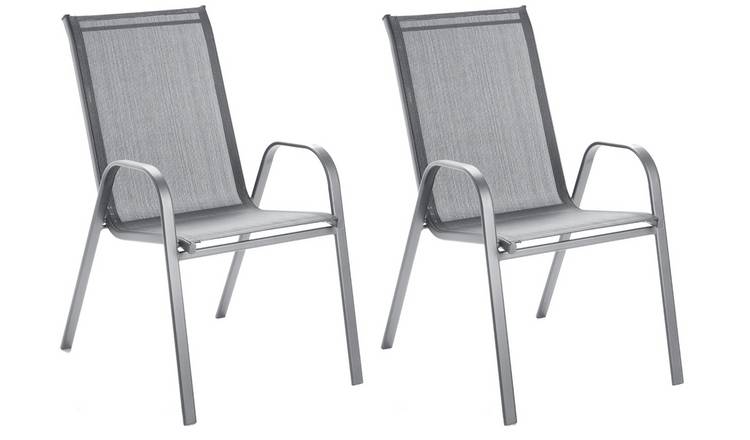 4) Lounge Armchairs
Lounge chairs are not only elegant eye-catchers in the garden but can also be an extension of the home if they are correctly matched with the interior. Plus, this luxurious garden chair allows you to relax on a long summer day. The cushion is well padded, making it more comfortable and pleasant than a regular garden cushion.
The downside of the lounge chair is that it takes up a lot of space. Therefore, you will need ample space to place this chair. Lounge chairs are often included in lounge sets. A lounge set consists of a lounge sofa and a lounge table and is exceptionally suitable for creating a unit in the garden.
5) Hanging Outdoor Chairs
Hanging chairs have become a trend in many gardens in recent years. They immediately attract attention with their appearance as an alternative to lounge chairs. In addition, suspended chairs challenge the user to stretch out and invite relaxation and unwinding. The cushions of the suspended chairs are as comfortable as those of lounge chairs. Having trouble finding a place to secure your suspended chair? Suspended chairs for garden use are also available with frames or as standard types.
6) Adirondack Chairs
The Adirondack chair is a design classic. The design is unique to this chair, which originated in North America. In recent years, we have seen more and more of these chairs in gardens and balconies. Adirondack chairs are generally made of natural materials, mainly wood, but some are now made of plastic. These are are often sold in sets with coffee tables.
Which type of garden chairs do you like the most? Let us know in the comments below!