You don't have to keep away your gardening tools just because of the cold weather. From the beautiful purple heather to the mesmerizing yellow winter aconite, there are various wonderful flowers to plant and prevent your garden from looking bare and dormant over the cold months. Here are 7 plants that will help to brighten up your flower borders and pots during the dark winter days.

1) Winter Heather
When most plants are hibernating, you can still rely on the winter heather to add a touch of color to your garden during winter, even if it is snowing! These flowers are quite small yet very colorful, which brings plenty of life to your garden. The plant is between 20 and 50 cm tall and blooms with purple, pink, red, white, and gold flowers. Because of their small size, winter heathers look amazing in pots and also work well in hanging baskets and containers. Moreover, they require very little care. All you have to do is prune them lightly once they bloom, water regularly, and add a special fertilizer if needed. You can now have a beautiful splash of color in your garden, even in winter!

2) Winter Jasmine
Native to China, the winter jasmine can bloom in cold climates and even stands out in snow-covered areas. However, unlike most jasmines, these are unscented. Known for its pink buds that open up to lovely star-shaped flowers, they beautifully embellish your garden during winter. These flowers can be cultivated as a climbing or hanging plant. As a climbing plant, you may let it grow on stretches of trellis, fences, and as a hanging plant, walls are the best! Even better, the winter jasmine does not require any special soil preparation. However, it's always helpful when soil and roots are soaked before planting. They also grow quite quickly as climbing plants, which is why pruning is useful for control and tidiness. This easy-care and long-lived plant is also resistant to pests and diseases and will add a winter liveliness to your garden!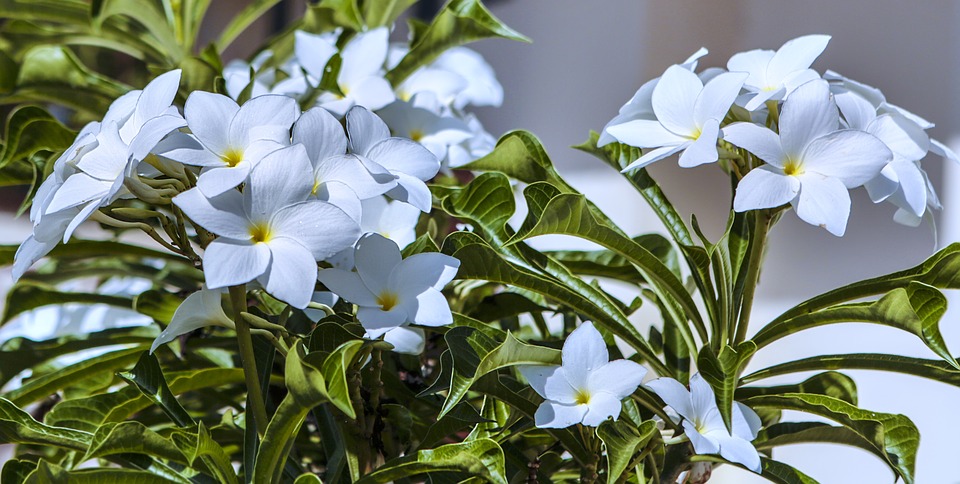 3) Snowdrops
Snowdrops are pretty flowers with drop-like and down-turned white petals grown in both moderate and cold winter regions. With tiny buds like pearls hanging from its slightly arched stem, snowdrops can be magnificent additions to your garden. However, you need to be patient since they can take 2 to 4 years to grow to flowering size. Nothing is more appealing than a view with these tiny white flowers under bare winter trees!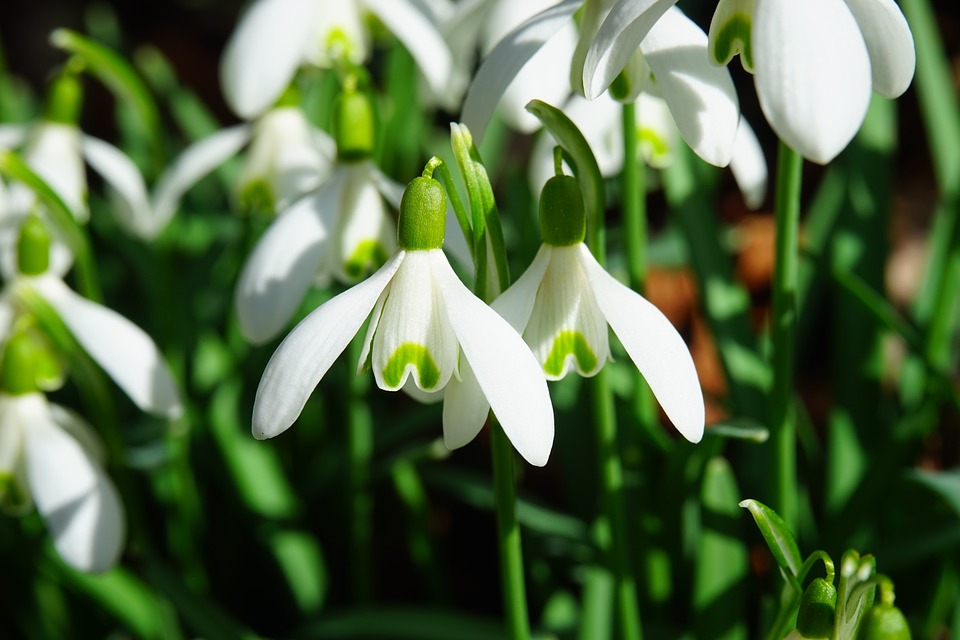 4) Cyclamen
The cyclamen flower comes in several colors, including a variety of pink, red, purple, and white shades. They have heart-shaped petals and sometimes have silvery-grey markings. The flowers look amazing planted under trees or in pots and will provide a burst of color to your garden during the dark and gloomy winter season. Did you know that the cyclamen is also a plant that symbolizes sincere affection and empathy? The plant is therefore found near religious places and offered as a holy flower or to express real love. The cyclamen will definitely chase away all your winter blues!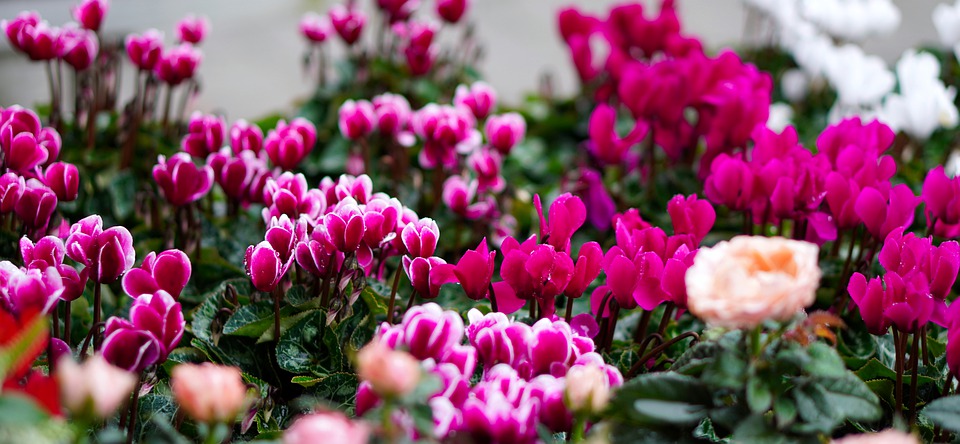 5) Winter Aconite
These yellow flowers are so pretty that they will warm your heart even in cold temperatures. Winter aconites will be a beautiful addition to your garden. They can be grown alongside walkways, pathways and grow well in containers as well. If grown in mass, they become even more eye-catching and pleasing with their vivid yellow colors. Remember not to plant winter aconite if you have kids or pets who love to dig in the garden. The plant can be harmful if ingested and cause vomiting, colic attacks, nausea, and even visual disturbance.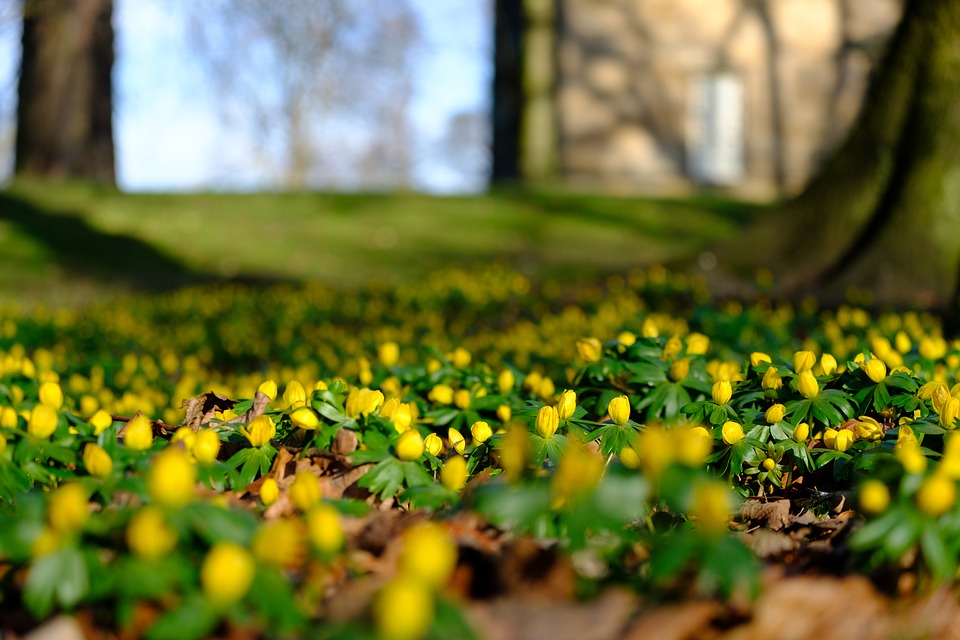 6) Kaffir Lily
Even though it is a summer flower, the kaffir lily also blooms in late winter and early spring. A kaffir lily bears dense clusters of trumpet-shaped flowers (10-15) and a thick, upright stem. Their bright orange flowers with yellow centers will undoubtedly add a flash of color to your garden. Avoid overwatering the kaffir lily to prevent root rots and be mindful of mealybugs!
7) Pansies
The pansy is a delicate-looking flower, known for its stunning petals that come in a range of colors and shades including purple, yellow, orange, red, brown and white. Pansies bloom even in cold temperatures, which makes them the ideal flowering plant for early winter color in your garden. The flowers may blossom into a single color or have a mixture of two to three colors and grow about 6 to 9 inches.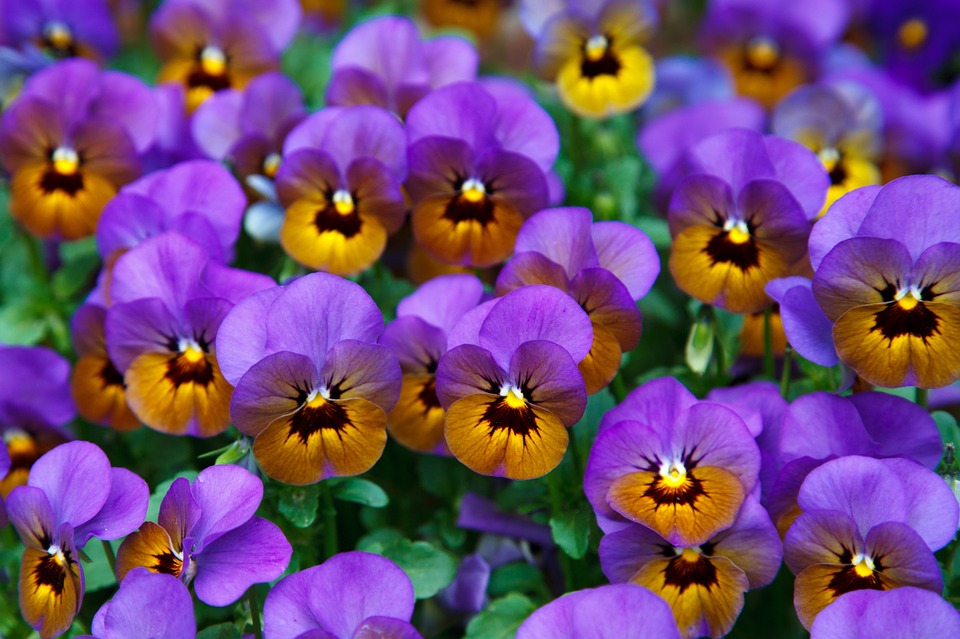 Winter is often a hard season for many of us. The short days, freezing temperatures, icy winds, wet roads, and all make life seem dull and boring. We hope that these plants improve the atmosphere at your place and help with your winter blues!