A garden path is much more than just a path. When a landscape is well designed, it structures the space, giving it dynamism and personality.
What Is the Role of a Garden Path?
A garden path can have different uses. It can be used either as an amenity for a trail that runs through the lawn or marks the boundary between flower beds, or as a utility for access to the vegetable garden or garage, or as a vehicular lane (where a vehicle can travel).
A garden path can have various shapes and sizes, so its layout will depend on its function.
Good to know: the so-called "pleasure" garden paths are designed to make you discover an outdoor space in a pleasant way. They then become an invitation to walk and discover the garden. Their shape will depend on the atmosphere of the green space: straight paths for a French or contemporary backyard, winding paths for an English garden. Utility lanes make it possible to reach as directly as possible from one point to another. They are, therefore, often straight or slightly sinuous.
How to Create a Garden Path?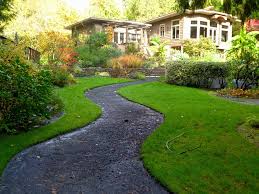 It is during the design of the garden plan that the layout of the paths is defined: their number, function, location, width, and shape.
Before embarking on the construction of a garden driveway, it is essential to know that it must:
allow rainwater to drain away by avoiding water stagnation or flow to the house;
offer a practical path;
avoid zigzags to facilitate maintenance (mower passage, weeding);
be in harmony with the garden and proportional to its size.
Tip: the creation and installation of a garden path are quite technical. Unless you are a skilled handyman or gardener, it is highly recommended to be supported by a professional!
Driveway for the Garden
The purpose of the driveway is to accommodate vehicles. It must, therefore, have a minimum passage width of 3 m. If the size of the garden allows it, it is advisable to plan 4 m.
Earthworks, such as the creation of a slope to facilitate rainwater drainage, are essential. The floor will have to be disassembled according to the chosen covering (count 25 cm for gravel and about 30 cm for paving stones, slabs, etc.).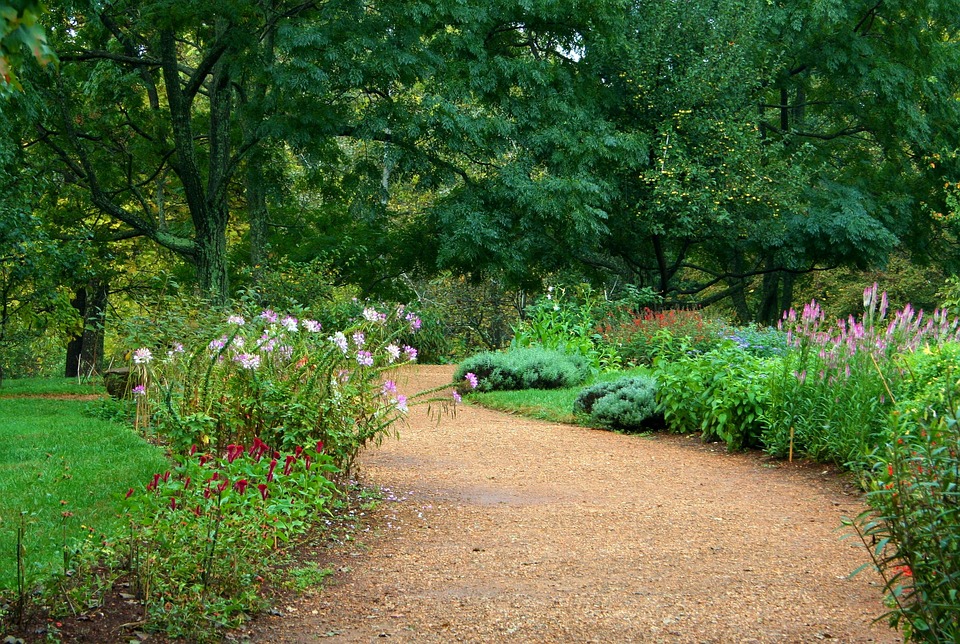 Good to know: it is the material chosen that defines the implementation of the project. For gravel, the ground will have to be stabilized and reinforced. For the laying of slabs, the paving must be well prepared and edged.
Pedestrian Garden Path
The pedestrian garden path should invite you to walk while giving personality to the green space. It should allow you to discover the garden by opening access to the plantations, flower beds, vegetable gardens, etc.
The recommended width varies between 80 cm and 120 cm, to facilitate the passage of a wheelbarrow or mower. As with the driveway, it is necessary to provide a small slope to facilitate the evacuation of rainwater.
Tip: To avoid weed growth, install a geotextile film under the siding.
Which Materials to Choose for a Garden Path?
To determine the ideal material for a garden driveway, it is first necessary to define its use (pedestrian or vehicular), identify the climate of the region (some materials being less resistant to cold and frost than others), determine the desired effect and style and the budget.
An Overview of the Characteristics of the Main Materials
Wood can be used for a pedestrian garden path. Presented in the form of wooden slats or gratings, it fits perfectly into all outdoor environments.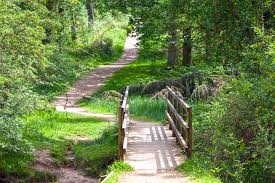 Gravel can be used for both a pedestrian walkway and a driveway, but the implementation will be different for each. It is straightforward to install (it easily follows the curves of a lawn) and offers a wide variety of looks, sizes, and colors. It blends perfectly into all types of gardens.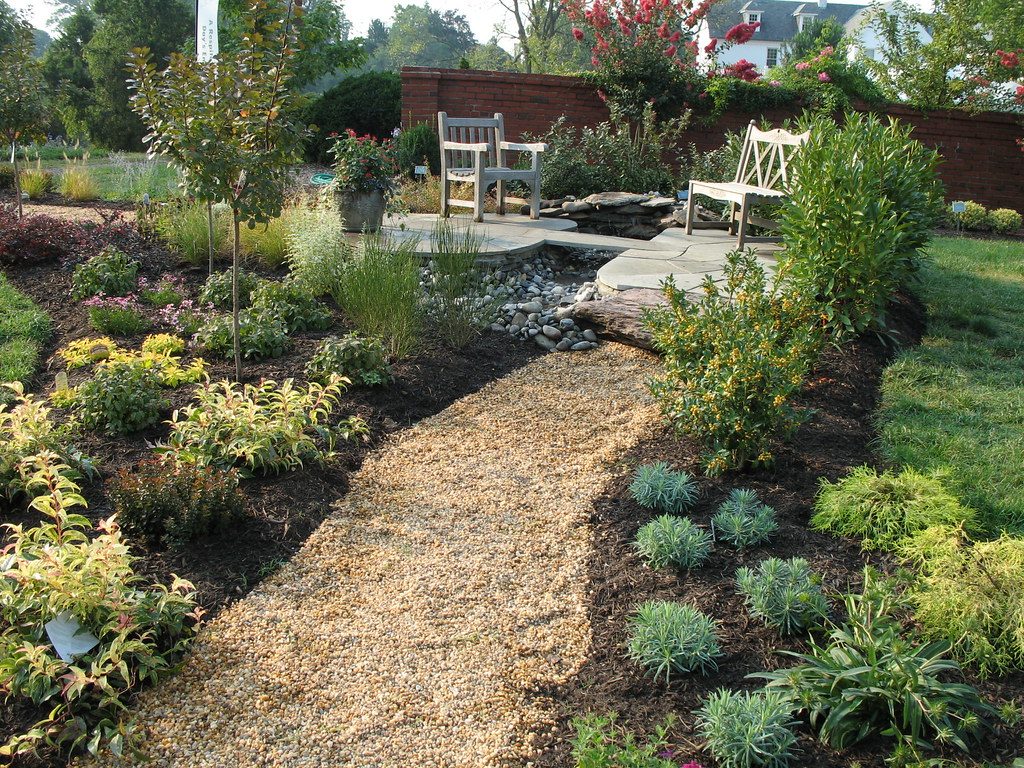 Slab creates a solid surface, suitable for all types of lanes. Only the implementation will be different. There is a wide variety of slabs (stone, brick, concrete, and even wood). For a natural atmosphere, prefer natural stone tiles; for a contemporary atmosphere, favor a straight line, for a touch of Zen, choose Japanese styles.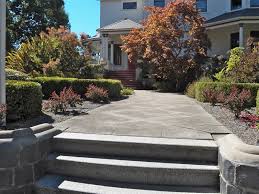 The paving stone is ideal for pedestrian walkways and driveways if the thickness of the paving stone is at least 6 cm. It gives the possibility to create multiple assemblies and beautiful aesthetic effects, and it has an authentic look.
How to Maintain a Garden Path?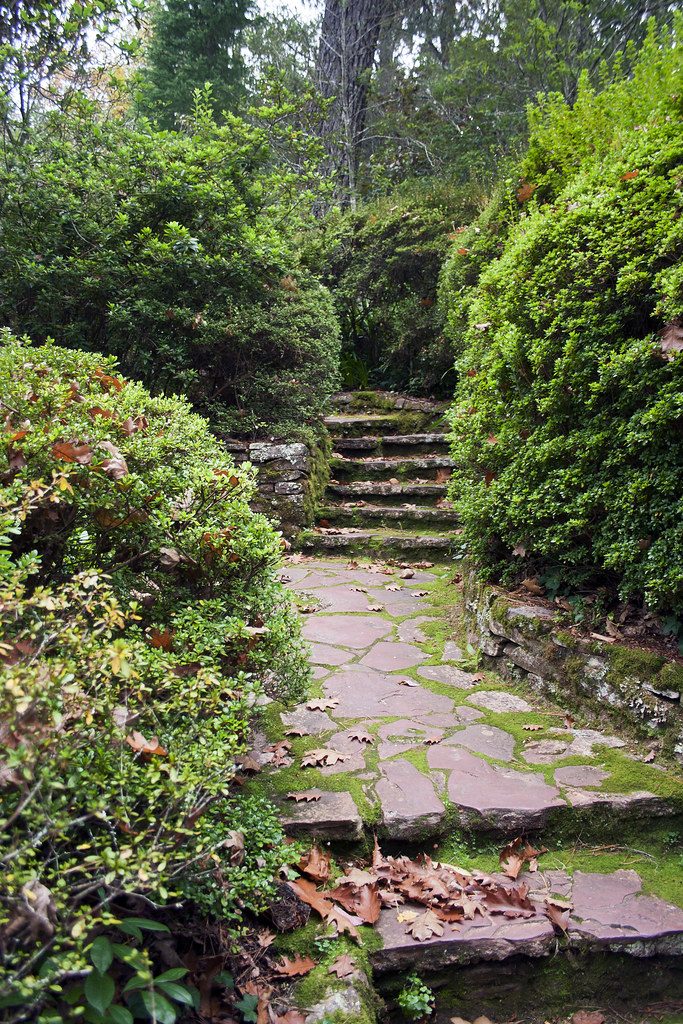 The maintenance of a garden driveway will depend on the material it is made of.
Gravel paths should be weeded: if the geotextile felt has been properly installed, all you have to do is hand-pull the few weeds. Regular scraping should be done to maintain the original beauty of the lane. Finally, fill the gravel loss by recharging it every 3 years.
Paved or brick walkways do not require a lot of maintenance. To control weeds between slabs, use a high-pressure cleaner or herbicide once or twice a year.
How to Go Further in the Development of a Garden Path?
To protect and enhance your garden driveway, think of borders and lighting. In addition to its aesthetic aspect, a border will delimit the space and prevent a lot of dirt from altering your garden driveway.
For its part, the lighting will mark out your driveway, making it easier to walk around, while bringing a unique charm to the outside!
Hope the above helps you out in creating the garden of your dreams! Remember to share your comments in the section below.