How to Choose Your Fertilizer Spreader
In the agricultural world, a fertilizer spreader is a professional machine designed to spread fertilizer in the field. There is also a fertilizer spreader more suitable for private use, i.e. for gardeners with a medium-sized plot. Let's find out the characteristics of non-professional fertilizer spreaders, the criteria for choosing them according to the advantages and disadvantages of each model, and their price.
Fertilizer spreader: definition
Suppose you have a vegetable garden, an orchard and an ornamental garden with decorative plants and a lawn. In that case, you should know that you can easily fertilize your soil with a fertilizer spreader.
A fertilizer spreader is a machine equipped with a tank to receive the fertilizer and a system to spread the fertilizer evenly over the soil. There are different fertilizer spreaders: hand-held, backpack, electric with or without wire, and towed.
Suppliers offer new models every year to meet the needs of consumers as best as possible. The choice is, therefore, rich, and it is sometimes difficult to find your way around.
Whatever model of fertilizer spreader is on the market, it must be recognized that it makes it considerably easier for gardening enthusiasts to fertilize their gardens regularly.
Fertilizer spreader: the different types and characteristics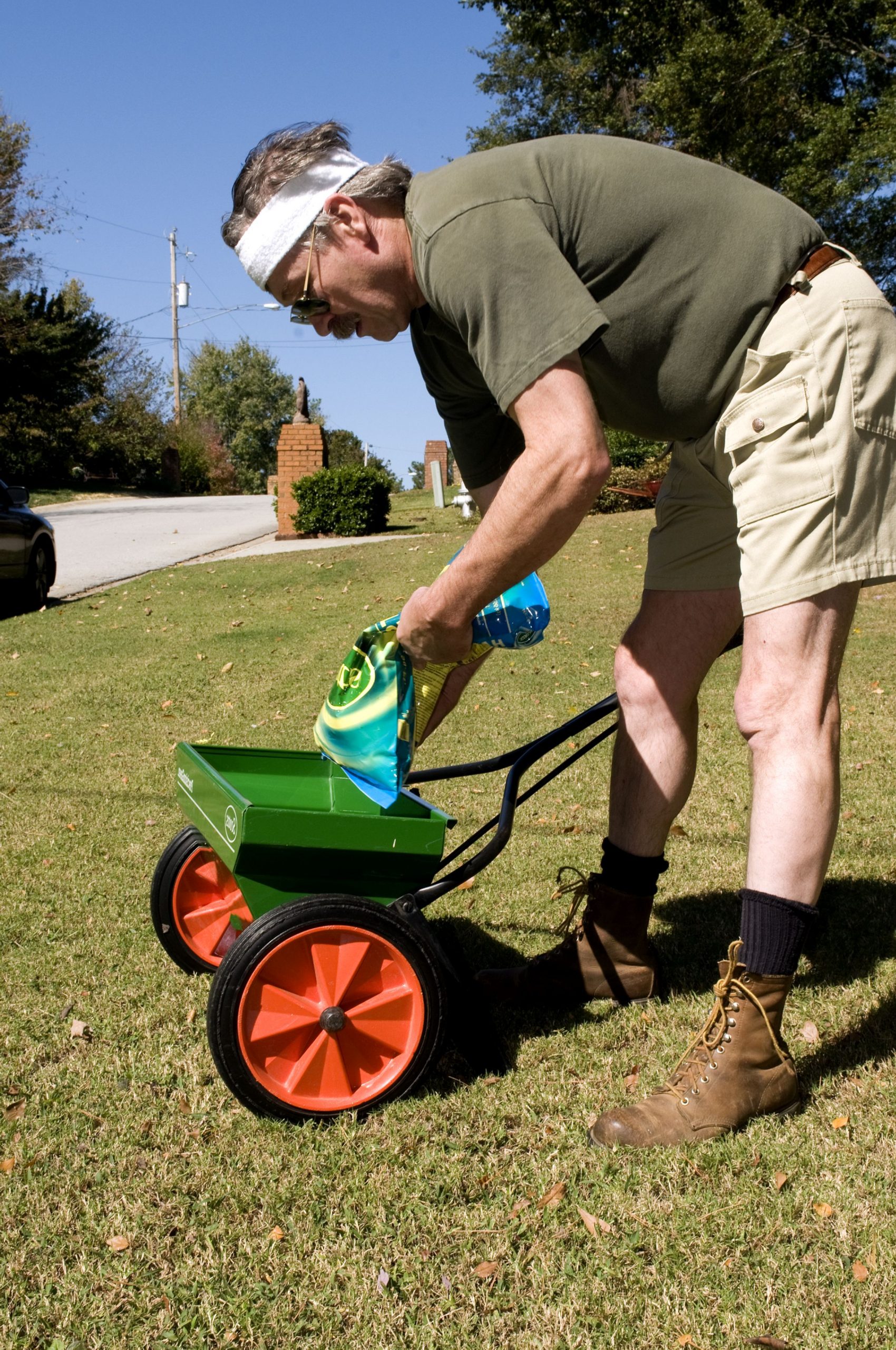 Among the many models of fertilizer spreaders, there are :
– The hand-held fertilizer spreader: ideal for small areas up to 300 m². Its capacity is generally 3 to 5 litres. It is equipped with a push handle.
– Backpack fertilizer spreader: fitted with a harness that can be adjusted to suit the user's morphology for greater comfort, it has a crank to operate the spreading system. It is the ideal spreader for medium-sized, sloping land and areas that are difficult to access.
– The 6-volt wireless fertilizer spreader: light and easy to use; suitable for small areas; hopper capacity of 2.5 to 3 litres; variable speed drive; motor start-up by a protected trigger.
– The wired electric spreader: similar to the wireless model but more powerful. It needs to be connected to the electrical network during the spreading session.
– The fertilizer spreader that can be adapted to a ride-on mower or micro-tractor is an efficient towable model, as it considerably reduces the gardener's efforts. Its characteristics are a spreading disc driven by the wheels, a steel hopper with a capacity of 150 litres, a hopper bottom agitator; spreading width between 2 and 6 metres; ideal for large areas.
Some websites refer to a "mini fertiliser spreader" as a spray can with a capacity of about 150 cl that can be used to spread fertilizer for potted plants and possibly small flower beds. This model is not suitable for fertilizing a garden.
Good to know: your fertilizer spreader can also spread seeds easily on the ground.
Fertilizer spreader: selection criteria
Fertilizer spreaders come in various models, all of which have many advantages, and each is designed to meet specific needs. It is, therefore, important to determine your requirements to choose the most suitable fertilizer spreader. The main criteria for choosing a fertilizer spreader are as follows
– The size of the land:
◦ for an urban garden, a hand-held fertilizer spreader is largely sufficient;
◦ for a plot of more than 1,000 m², opting for a fertilizer spreader adaptable to the micro-tractor is recommended.
– The type of land: if it is steep or has many areas that are difficult to access other than on foot, it is better to choose a backpack fertilizer spreader. However, the backpack spreader, which makes it easier to move around, is not recommended for people with lower back pain or tendonitis. Its empty weight is about 10 kg, to which the weight of the fertilizer must be added.
– The operating system:
◦ the battery-operated fertilizer spreader is cordless, which limits the risk of accidents;
◦ the wire fertilizer spreader allows a much larger area to be treated than the battery-powered electric model;
◦ The push spreader can be used by anyone and is a practical, energy-saving spreading tool, economical to purchase and perfectly suited to small urban plots of land up to 300 m².
Good to know: it is possible to hesitate between two types of spreaders. If in doubt, it is best to choose the larger model. Ask a gardening specialist for advice on which model is best for you.
Fertilizer spreader: price
You can buy a fertilizer spreader in garden centres, some supermarkets, DIY shops and professional websites.
Here are some examples of fertilizer spreader prices as of August 2016.
– Potted plant fertilizer spray can: $9 to $12
– Hand-held fertilizer spreader: $28 to $35
– Electric wire fertilizer spreader: from $50
– 6-volt battery-powered fertilizer spreader: $30 to $45
– Rotary fertilizer spreader: from $70
– Backpack fertilizer spreader with holding harness: $90-$120
– Rotary fertilizer spreader for micro tractors: from $130
Good to know: prices vary depending on the fertilizer spreader type, the hopper's capacity, the brand and the dealer. Take the time to compare prices before you buy your fertilizer spreader.
Read more: