For a gardener –be it an amateur or a professional – gardens are always a source of inspiration and wonder; they educate more than books or screens. So, if you've planned on taking a vacation this year, how about turning it into garden holidays and visit some of the best gardens in the world?
Gardens By The Bay –Singapore
Singapore today is an ideal inspiration for many countries around the world. Due to its wealthy, extremely remarkable and ultra-secured standard, many consider it the priceless gold of Asia's south-eastern edge and some even passionately call it a "bright star." Besides being known as a mini USA and Europe –in view of its ultra-modernization – Singapore is also known for its incredible ability in creating a city within a garden. Singapore seems to value tress and nature more than other neighboring countries, which is why Gardens by the Bay was built.
Gardens by the Bay is one of the most beautiful man-made gardens in the world and is eventually a must-visit landmark sites for both local and international visitors. Earning fame as an uncounted and incomparable natural attraction, this national garden is a showpiece of garden artistry and horticulture that displays plants in a whole new way; visitors will be entertained and educated; and ranging from species in cool, temperate climates to those from tropical forests, you will have access to plants that are seldom seen in the world.
As one of the world's most popular and highly attractive garden-based theme park, Garden by the Bay consists of three distinctive waterfront gardens: Bay South, Bay East and Bay Central. Bay South opened its doors in 2012 and is the largest of all the three gardens. Bay South is the primary reason why Gardens by the Bay became a source of national pride for Singapore. This futuristic nature park comprises a flower dome where there are almost 30 thousand plants of over 50 species in nine different gardens. And, one cannot forget the supertree groves –these vertical gardens are home to over 150, 000 plants. Hence, the ever-changing floral displays in the Bay South has the power to bring the beauty and diversity of the plant kingdom to life for all visitors to enjoy.
Bay East, on the other hand, offers a tranquil respite from the bustling city and a breath-taking view of the Singapore skyline. This green space is open to the public and has immense potential for future development as a waterfront garden. And, finally, Bay Central is a beautiful garden – with a 3km waterfront promenade that boasts of stunning views of the city – that serves as a link between Bay South to Bay East.
While plant displays remain the focal point of Gardens by the Bay, engaging programmes and excellent service are key pillars in enhancing the garden's overall visitor experience. The garden's calendar, for example, is often packed with music concerts, movie screenings, signature festivals, educational workshops, school programmes and sports and community events. Free light and sound shows at supertree groves take place every day between 7:45 p.m. and 8:45 p.m. With more than 50 million visitors to date, the garden continues to refresh and refine its "products and services", making it a place that everyone can enjoy.
More Details:
Address: 18 Marina Gardens Dr, Singapore 018953
Contact Number: +65 6420 6848
Opening Hours:
Monday               5am–2am
Tuesday               5am–2am
Wednesday        5am–2am
Thursday             5am–2am
Friday                  5am–2am
Saturday              5am–2am
Sunday               5am–2am
Customer Reviews: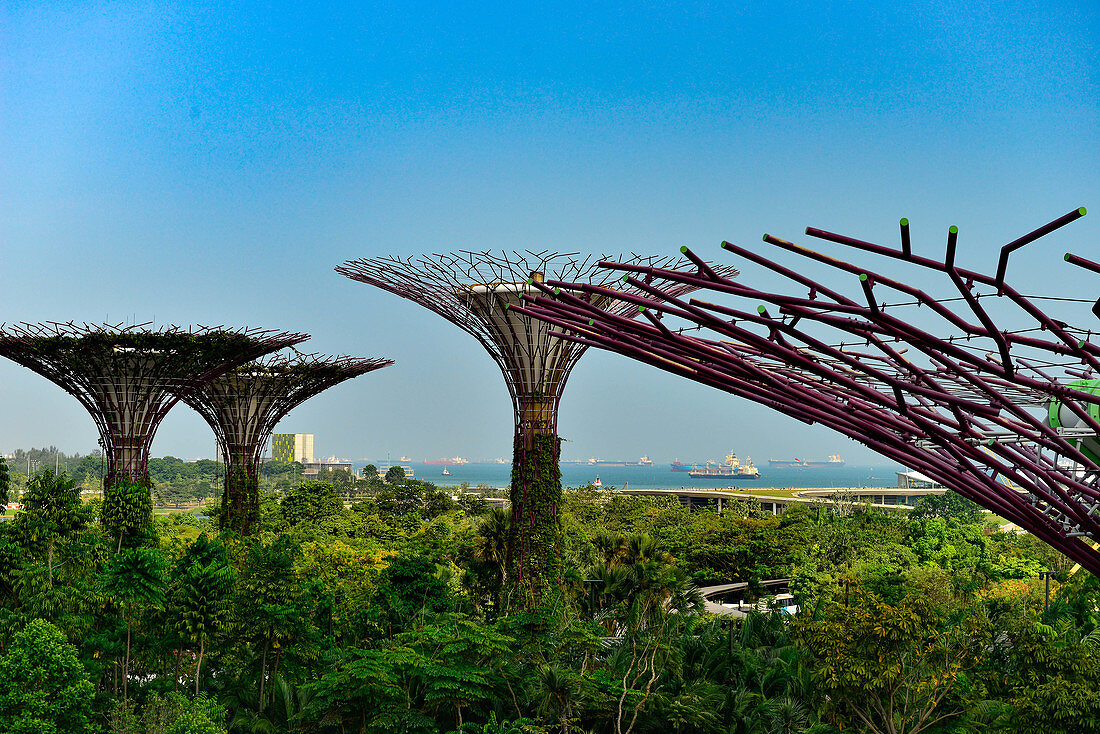 "These gardens are a sight to see. Home to various outdoor and indoor gardens, this location is definitely worth the visit. Check out the supersized man-made "trees" with vertical gardens of plants that brighten up the night sky." – From Diva
"This is a must-see when you are in Singapore. Even if you just intend to have a good walk, this place will never cease to amaze you with its beauty and diversity." – From Leah
"Initially, I was a little sceptical not I know it's a really good place. Recommended for all garden-lovers!" – From Thomas