There was a time when many looked down on succulents because of their thick, fleshy and cactus-like looks. However, today, it turns out that succulents are part of a big gardening trend and are often used to create an aesthetic appeal. So, here are some of the best ways to "decorate" your garden with succulents.
Make a Gorgeous Succulent Terrarium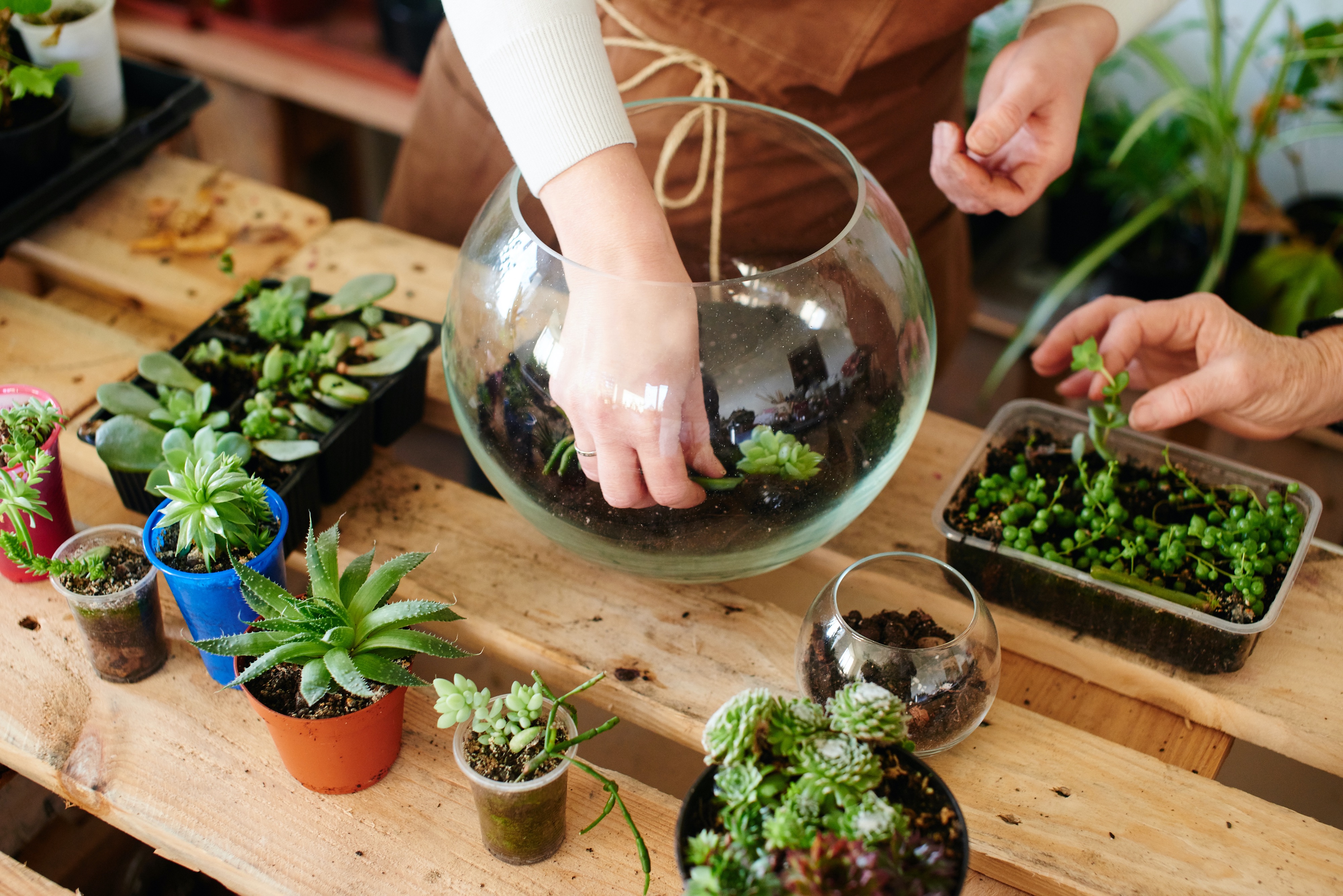 What you'll need:
Faux Succulents
Moss
White rocks
Galvanized metal lantern
Instructions to make a gorgeous succulent terrarium:
Step 1: You should start by gathering all the supplies you need to create this beautiful succulent terrarium. 
Step 2: Take the lantern and the white rocks at the bottom. If you want to color the rocks, you are free to.
Step 3: Now, add the moss and then the succulents. If you've obtained a large aloe succulent, for example, trim it and try not to make it look too big – you'd want a balance. You can also choose to include hen and chick succulents as they can add a lot of dimension to a terrarium.
Step 4: It's time to re-arrange all the layers of succulents. My tip is for you to avoid crowing the terrarium with too many succulents and opt for a simple and spacious style. The display can also look good if you add succulents outside the terrarium as well.
Note: If you like the idea of using real succulents for your terrarium, make sure to add potting soil inside the lantern. And, since the lantern has an opening at the top, your succulents will be able to breathe.
People's Reviews:
"I love this!I've always wanted to try my hand at making a terrarium and I just hope it will turn out as brilliantly as I'm hoping it will." – From Lana
"I love this! So simple, yet elegant. I've never seen a terrarium like this, but now I totally want one! It's crazy when you realize that you can literally make almost anything! Such a cool project. Definitely an adorable decoration for my house." From Dan
"Love this! It sounds cute to make and cheap also." – From Joanna
Mini Mason Jar Succulent Starters
What you'll need:
Potting Soil
Succulents
A spoon
Mason jars
Instructions to make Mini Mason Jar Succulent Starters:
Step 1: You should start by filling your mason jars with potting soil –they should be about ¾ full. And, remember to create a small hole right in the middle of the jar –that's where you'll place the succulent.
Step 2: Now, take your succulents out of their pots and break up their roots a little bit, getting rid of the previous soil and then putting them in the hole you created in the mason jars.
Step 3: If the potting soil is not enough, add some more until the roots are fully covered and the succulent is secured in its place.
Step 4: Repeat the same process as mentioned in steps 2 and step 3 for the other succulents as well.
Step 5: Once you are done, wrap the succulent starters in ribbon and place small markers inside with a happy little message. You can even place some tiny decorative rocks or pebbles on the top of jar.
People's Reviews:
"Anything in a mason jar is absolutely adorable. And, when you add succulents, it's even better. Just love these. Thanks for sharing this with us. Can't wait to start on this project." – From Dia
"Love these adorable succulent pots! I'm so ready to get my hands in the dirt this year! Thanks for sharing your post! I've once tried a few DIY stuff with succulents and they turned out great, which is why I'll give this one some extra love!" –From Kim
"Thank you so much for sharing the know how and the adorable Mason jars with the succulents. I have a kitchen window where I'd love to have them to admire them!" –From Fabby