Summary
    – Type of construction of a wooden pergola
    – Specificities of the wood of your pergola
    – Choice of roof for your wooden pergola
    – Conclusion: don't sell out on the quality…
Do you want to build a pergola in your garden, but your budget is limited? However, you want it to be solid, durable and… made of wood. You are right; wood has many qualities. Natural, it has good durability and a price that remains affordable, but you must take care of it. We give you all the information you need before investing in a wooden pergola!
The wooden pergola in kit
Pergola manufacturers are increasing the number of kit models. For a good reason, their low price and ease of assembly make them readily appreciable, in addition to the fact that they are designed in material as advantageous as wood.
You can choose between two types of pergola kits: the one with 2 legs fixed to the ground and 2 wall mountings, or the self-supporting pergola, with 4 legs nailed to the floor.
Good to know: In all cases, we remind you that fixing a pergola requires care because it guarantees the excellent stability of the structure.
A self-built wooden pergola
Contacting a professional for a custom-made pergola will cost you what it ought to. However, if you are a DIY enthusiast, you can choose to build your wooden pergola.
However, you will need to have the necessary skills to design and build it and the right tools (portable circular saw and planer, 10 mm diameter wood bit…).
The simplest structure is made of bastings, and lag bolts and bolts do the assembly.
As for the cost, the price will not be lower, but you will get a product of better quality and more advanced finishes, and to your dimensions!
Please note: There are online calculation tools to help you size the posts and structure of your wooden pergola.
Specificities of the wood of your pergola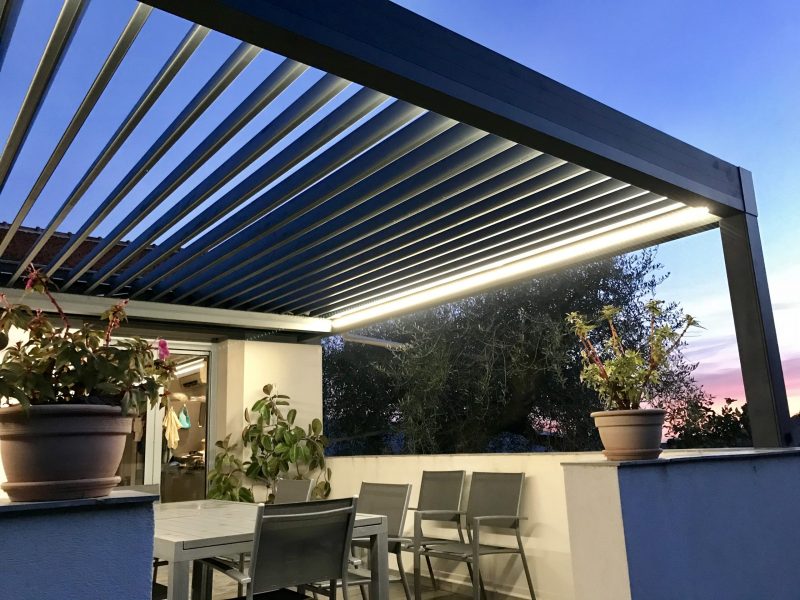 Wood is a natural material that adapts to all styles. The least expensive species is pine (Douglas fir or Scots pine), with chestnut and exotic woods coming in second.
For protection against insects and humidity, you must choose autoclave class 3 or 4 (ideally).
If you want to avoid the wood from greying and splitting, maintain your pergola with a water repellent product. Some recommend a linen and turpentine treatment to saturate the fibres. You can also choose to stain it with wood stain; wait a few years for better adhesion.
Cheap wooden pergola: choice of roof
Whether you buy your pergola in kit form, build it yourself, or call a professional, you will have to choose how to cover it. Here are some inexpensive solutions:
    – A light, Provençal roof for filtered shade made of natural materials (split canisses, reeds or mulch);
    – A roof made of PVC or polycarbonate sheets, very economical materials, of a very average aestheticism but which resist to bad weather;
    – A green roof, for a refreshing shade, with climbing plants such as ivy, honeysuckle, vine, clematis, wisteria…
Good to know: This solution requires patience, of course. Moreover, evergreen foliage will block out the light in winter, and some flowering and fruiting trees may dirty the ground of your terrace.
Online, some prices may seem more attractive. But don't sell out on the quality of your wooden pergola, as the structure's durability also depends on the finish. 
Read more here:
How to Make a Gravel Driveway in Your Garden;
Landscaping Construction: What Is the Point of a Retaining Wall.