A balcony or terrace can be transformed into a small and beautiful flower garden. To cultivate plants in such areas, it is vital to select the right containers. Don't forget to choose your container according to both the functional and aesthetic elements you want to enhance your balcony.
It is also vital to make sure that these containers are as large as possible since the larger the internal volume, the more substrate it can hold, and therefore the better the plants will develop. Remember that the growth of a plant is directly related to the volume of space available. Not only will the plants grow more, but they will also bloom and respond better to stressful situations such as droughts, epidemics, diseases, etc. diseases.
The Various Types Of Plant Containers
1) Plastic Containers
The plastic containers are more economical and allow for more excellent water retention. However, they can be blown away by the wind because they are very light, especially when the soil is dry. The positive point is that they are hard to break. Be careful when purchasing one since plastic terracotta imitations can also be very decorative and difficult to distinguish at first sight.

2) Self-Watering Pots
Self-watering containers are plastic pots with a small water reservoir on the ground, which supplies the plant with the necessary amount of water. To ensure that there is always sufficient water in the reservoir, they usually have an overload device that indicates the water content. To prevent the soil from drying out, the water level should be monitored, and the tank should be refilled when required.

3) Clay Plots
Since it is a porous material, it helps the soil dry out earlier, so more attention should be paid to watering. The evaporation of water by the mud refreshes the soil and prevents it from getting too warm. Moreover, these earthenware containers are very stable due to their weight and will not fall in case of strong wind. Besides, earthenware pots are also very decorative, and nowadays, there are many models and sizes.

4) Metal Containers
Metal containers offer a very modern and aesthetic feel. These would fit perfectly with the latest design of terraces and balconies.

5) Wooden Garden Pots
The wooden pot is ideal for garden plants and can be of any size. Regular maintenance is necessary with wooden pots, and they should also be protected from the inside. To do this, you may use foil to cover the interior part of the pot. This will protect the wood from excessive moisture. It is also worth adding that wooden garden pots have become an elegant piece of garden equipment and spacious gazebos. They blend perfectly with elements such as garden furniture or wooden garden pergolas. However, large and good quality wooden garden pots are quite expensive. This is one of the biggest disadvantages when it comes to wooden pots.

6) Concrete Pots
Concrete pots are very stable and large. They are best suited for stationary use. They usually have a rather simple shape. These pots are characterized by their resistance to moisture and changeable temperatures. They are easy to clean, do not require protection during the winter season, and at the same time, are resistant to mechanical damage. They can be successfully used for planting and are most often chosen for public buildings. However, nothing stands in the way of including them in a garden arrangement. Besides, the pots can fit into large gazebos, equipped with heavy garden furniture.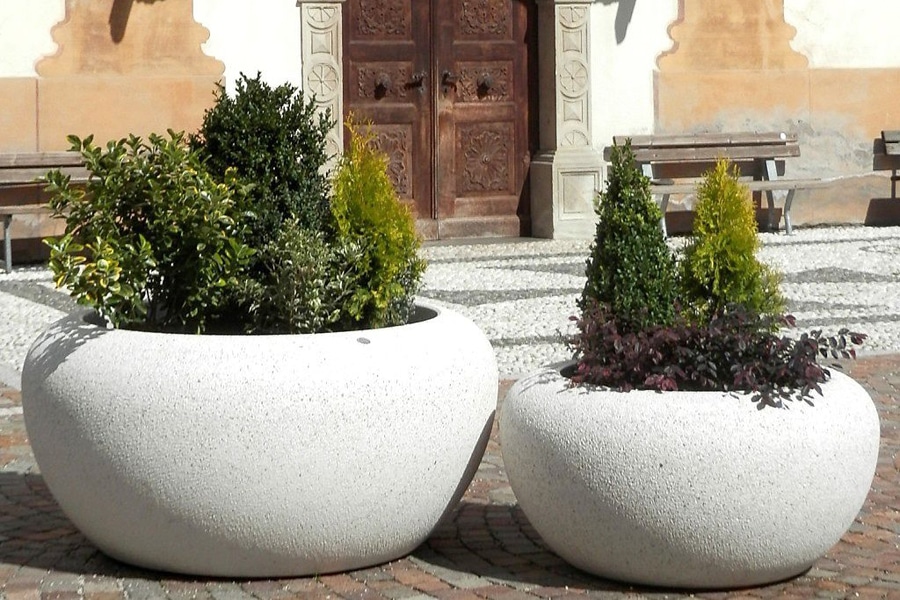 Do you use any other type of garden containers that hasn't been mentioned in the list above? If yes, share it with us in the comments below!