Setting Up a Garden on Your Balcony for Less Than $200!
Do you love nature, flowers and the little insects they attract, or do you simply want to build a green wall between you and the world? (Or do you want to get rid of your neighbours? But that's another story! The problem is that you don't have enough space to satisfy your desire for greenery, only a small, dull balcony that you want to dress up.
No problem! With a few tricks, you can create a real garden on your balcony without feeling like you're investing in a forest. In addition, plants can purify the polluted air that surrounds you when you live in the city!
Anecdote: to improve the air quality of Milan, the architect Stefano Boeli has imagined 2 residential towers in the city center transformed into real "vertical forests" hosting more than 900 trees and plants.
Balcony garden: what you need to know before you start
Creating a space for your favourite flowers on your balcony is not an easy task. It is necessary to take some precautions before installing a garden.
Get the facts
It's tempting to put flowers on your balcony without asking anyone (after all, it's your balcony!). But it is advisable to find out if you are allowed to install a garden on it, and if you live in an apartment, make sure that it will not disturb your neighbours (water spills).
Also, always check with your property manager or landlord to find out the maximum load your balcony can support. In general, this load is 350 kg/m², but you never know!
Designing your garden to suit your lifestyle
In order to make these gardening moments more pleasant, think of arranging your garden according to your desires and lifestyle. For example, an elevated garden (raised with tables or wooden frames) is perfect for older adults with reduced mobility or back problems.
If you want to start with a small area and expand it over time, you may want to consider a "square" garden. This garden allows you to grow several plants in small square plots. The ideal, on a balcony, remains the culture in pot. If you are a tenant, in particular, be aware that you will have to restore your balcony to its original state when you leave your home. So it's best to opt for crops that are easy to transport!
Good to know: if you live in the city, don't be afraid of pollution! Plants absorb it through their leaves and pass it on to their roots, transforming it into healthy organic products. However, this system has its limits: if your balcony is located on a lower floor, near a road where there is a lot of traffic, some plants could suffer, especially seasonal flowers. On the other hand, plants such as ficus or ivy are resistant and sometimes used to fight against pollution.
Tips for successful balcony planting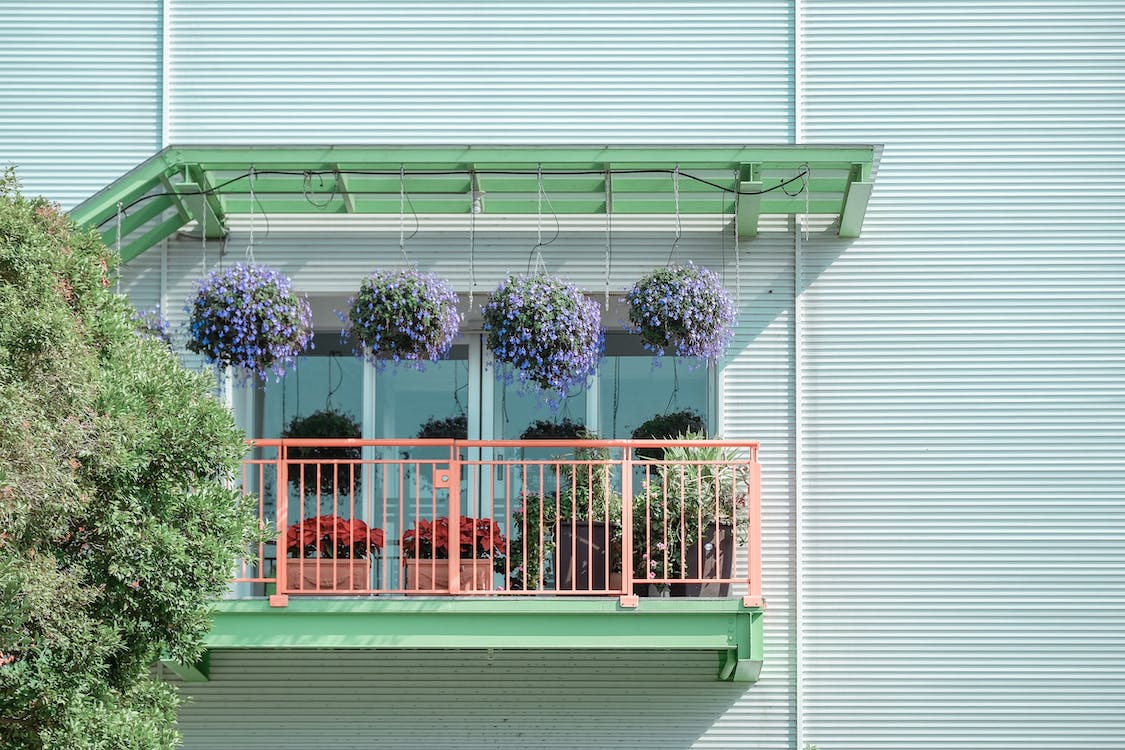 Good gardening also means knowing your environment well. So that your garden is not reduced to a few pitiful and yellowish stems, several factors must be taken into consideration.
Choose plants according to the orientation of the balcony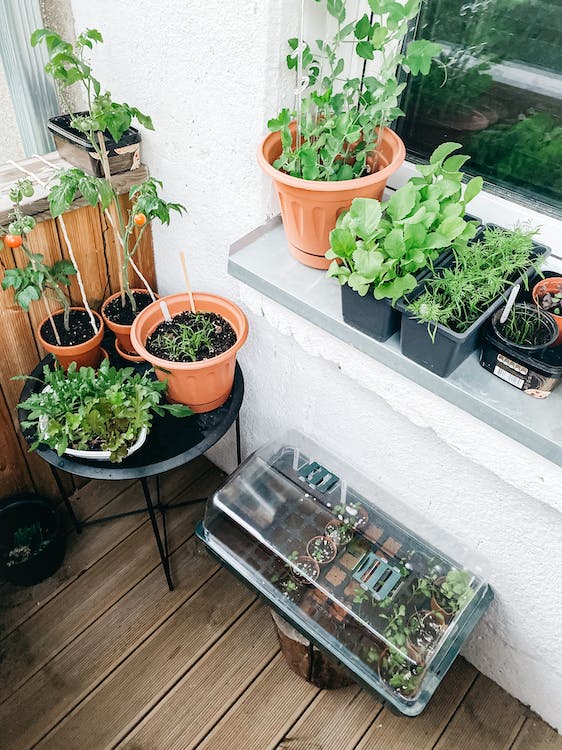 To choose the plants you will put in your garden, take into account the location of your balcony:
    – If it's in the shade, choose plants that don't require much light: lettuce, spinach, ivy, begonias, etc.
    – If it is in the sun, you can plant plants that require more light: tomatoes, small roses, etc.
Choosing the right pots
If you choose to plant in pots, the choice of containers is very important:
    – Choose pots that are large enough, so that the plants do not compete with each other. This is especially true for vegetables, which need room to grow well.
    – Pay attention to the depth of the pots: fast-growing plants don't need much depth, which is not the case for some larger or longer-growing plants, such as carrots or thyme.
    – Choose terracotta or plastic pots instead: the former is aesthetically pleasing and allows water and air to pass through better, while the latter is lighter, easier to transport, and easy to maintain. A 20L terracotta pot is $20 to $30, while a 20L plastic pot is about $15.
    – Be careful, however: clay is not frost resistant and is likely to break in very cold weather. To avoid this, elevate your pots slightly in winter and wrap them with several layers of bubble wrap, about $10 per meter.
Don't mix vegetable garden and green plants
For the sake of your plants, avoid mixing vegetables and green plants. If you want to grow a garden and a vegetable patch, it's best to keep vegetables separate from other plants. That way, they won't compete with each other. In the same vein, make sure you have enough space for your project. To avoid surprises, ask your garden store for advice.
Choosing the right soil for your planting
For your plants to grow well, they need soil that meets their nutrient needs:
    – For vegetables, choose a special vegetable soil that is rich in nutrients. (Approximately $20 per 20 L.)
    – For your green plants and flowers, universal potting soil may be appropriate. (Approximately $10 per 50 L.)
Choosing green plants and vegetables
You've always dreamed of planting your own vegetables, but are you sure your tomato plants will thrive on your balcony? Choose your future friends in pots according to your project and your available space
Year-round or seasonal plants?
If you want to create a decorative garden, make sure the green plants you choose are suitable for your balcony. For year-round decoration:
    – Opt for evergreen shrubs, such as sauce laurel (about $10), lavender or thyme (about $12), or the more expensive but very hardy bamboo (about $40).
    – Choose flowers according to the season.
Vegetables: depending on the layout of the balcony
The choice of your vegetables depends a lot on the layout of your balcony:
    – If it is rather small, choose plants that do not grow very much, they will take up less space. For example, choose zucchini (about $5 for a 2 g bag) or cherry tomatoes (about $3 for 30 seeds).
    – If it is rather large, dare to plant vegetables that take up more space, such as carrots (about $5 for 200 seeds).
Think also of aromatic plants, very easy to grow. You can find them in garden centers all year long, but for outdoor cultivation, it is better to plant them between April and the end of May. Whatever the herb (basil, chives, etc.), a bag of seeds rarely costs more than $5.
Fruit trees on the balcony, it's possible!
It is quite possible to plant fruit trees on your balcony… as long as you stick to "dwarf" varieties. Be aware that these trees are not just decorative, they give the same fruits as a standard-size fruit tree. Expect to pay between $30 and $60 for a dwarf fruit tree. (Prices may vary by tree variety.) It is best to :
    – plant them in pots about 50 cm in diameter ($20 for a plastic pot; between $40 and $50 for a clay pot);
    – plant them with a mixture of universal potting soil (about $10 per 50 L) and topsoil to be picked up near a field, for example
Good to know: topsoil is not sold in bags, it is the "natural" soil that can be found in gardens, for example.
Save money easily
The little extra: saving water with a drip system
Watering a garden, even a small one, increases your water consumption. Knowing that it takes about 20,000 L of water per year to water a 100 m² garden, if your balcony is 5 m², you will use about 100 L per year to water it!
Moreover, when you live in an apartment, you have to make sure that the water does not bother your neighbours by flowing onto the lower floors. The best solution is, therefore, to opt for a drip system. It is a system that :
    – Allows you to irrigate the land continuously while reducing your water consumption to a minimum.
    – Is very useful when you are away: no need to ask the neighbour to come and water the plants!
    – Is inexpensive (a drip kit for a pot or planter containing 10 plants costs about $20).
However, check with your supplier to see if this system suits your plants. Some plants may require more watering.
Against pests: natural and decorative pesticides
Insects don't only live in the countryside! In the city, too, your plants are not safe from pests. To chase them away, avoid chemical pesticides, which are polluting and relatively expensive (about $15 per 500 mL). Prefer natural and decorative solutions, and save over $10 by using :
    – Nasturtiums, which are very popular with aphids, who will prefer them to your tomatoes (about $2 per bag).
    – Peppermint is an excellent natural insecticide. In addition, it helps prevent the appearance of certain fungi and will give your balcony a pleasant scent (about $2).
Good to know: to chase away weeds, use mugwort. This perennial plant has the property of blocking the germination of seeds. So be careful not to plant it until after your plants have germinated! A bag of 50 mugwort seeds costs about $5.
Example of an economical balcony garden at $160
Let's say your balcony is 5 m². You've decided to plant tomatoes, zucchini, chives, one flower species per season and a bay leaf. What would you need?
Pots
You will need 5 pots ($70 total): 3 x 20 L pots for vegetables and flowers (about $15 for plastic pots), 1 smaller pot about 15 cm high for chives (about $5 for a plastic pot), 1 pot 50 cm in diameter for bay leaves ($20 for a plastic pot).
Seeds and bulbs
Bay leaves cost $10. If you buy bulbs or seeds for $5 for each season, you will have $20 worth of bulbs per year. Chive seeds cost $5. Add to that pest control plants, nasturtium and peppermint (less than $5 for the two seed packets). All in all, you'll get $40 worth.
Potting soil
Two 20L bags of vegetable potting soil, 2 x $20 = $40. Include a 50 L bag of universal potting soil, about $10. That's a total of $50.
This garden will cost you a total of $160, which is a bit of an investment, but not unreasonable: you can raise enough money to build your garden by saving about $15 a month for a year.
Bonus: unusual, a pond on your balcony!
To add a touch of originality to your balcony garden, you can add a pond for aquatic plants (available from $60).
Materials needed
    – For the pond: a large plastic pot of about 30 L and at least 30 cm deep (between $30 and $40). 
    – Plant baskets for the pond (between $2 and $10 depending on the size);
    – Universal potting soil (about $10 per 6 L bag)
    – 1 m of burlap (about $5);
    – Water plant seeds: water lilies, rushes, etc., (between $2 and $5 per bag of 20 to 30 seeds).
Set up your pond
    – Cover the bottom of each basket with burlap. This will prevent potting soil from escaping through the small holes in the basket. Then pour potting soil halfway into the basket.
    – Plant your seeds and place the baskets at the bottom of the pond.
    – Cover the soil with pebbles or gravel to weigh the basket down. Most aquatic plants need to be placed at a certain depth to thrive or they may die. Always seek advice before planting.
    – Fill the pond with water. Germination time depends on the type of plant: water lilies and rushes, for example, take about a month to develop.
Invite fish for more life
    – The ideal is to opt for small goldfish (maximum 40 cm) adapted to life in small spaces (about $2.50 each). Do not use any pesticides to treat the water in your pond, as this could kill the fish!
    – Once the aquatic plants are installed, water bugs should develop naturally. They will be used to feed the fish. However, be sure to wait until these insects are fully developed before introducing the fish, otherwise they will eat the larvae and have nothing left! Ideally, you should wait at least one month after planting the plants, to be sure that the fish will have a balanced and adapted environment.
That's it. You're now ready to create a real garden on your balcony at a low cost!