The garden is part of the exterior decoration of a house, but it requires a lot of arrangement to make it more attractive. The installation of the right equipment is also necessary.
Therefore, before any provision, it is necessary to focus on the development work such as the earthwork, paving, installation of garden furniture, planting of various plants, etc.
Earthwork
It is up to you to choose the perfect shape for your garden to create an attractive environment. This work consists of arranging a site to obtain the desired shape. Indeed, some modifications are to be made: elimination of unwanted materials (stones, fillings, wild plants, etc.), shaping the garden surface (round, square, elliptical, diamond, etc.).
Creating the Paving
Paving is an essential element in the design of a garden, as it gives it a decorative aspect. Covering it with pebbles, self-locking stones, or other materials is sufficient to achieve a decorative structure on the desired surface.
The creation of paving is efficient and is recommended for all those who need comfort outside their homes. The application of paving stones requires resistant, durable and ornamental materials (concrete, pebbles, treated stones, sand, tiles, bricks, travertine, marble, porcelain, etc.).
The Creation of Paving
Different from paving, this type of landscaping is easy to do. All you have to do is dig the desired surface, pour mortar, and carefully lay stones or gravel. Natural stones offer a little more design than other materials (natural wood, wood composite, wood grating, etc.).
The Installation of Garden Joinery
Woodwork is an essential component of a garden.
To give a perfect touch to your green space, opt for the installation of the following equipment:
– flower storage units to keep your plants in focus;
– tables and chairs to embellish the dedicated area and to settle down during different circumstances;
– a small gate made of logs for an aesthetic aspect;
– a small bridge to cross the garden pond;
– a garden staircase to access the other sites;
– a garden shed or cabin to store gardening accessories or equipment related to specific outdoor activities;
There are still other devices such as benches, deckchairs, hammocks or swings, etc. Have the right equipment for a more welcoming look. Moreover, to maintain the beauty of your garden, bet on materials of good quality and resistant to climate change.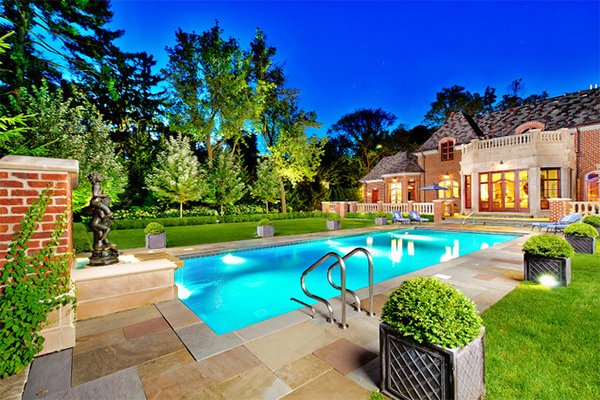 Building a Pool
If your garden is flat, installing an above-ground pool or an in-ground pool is preferable. Not only for a beautiful outdoor look but also the air of relaxation.
In particular, the above-ground pool is the most advantageous because it is adaptable to any garden category. In addition, this type of pool does not need major development work. You can enjoy bathing in the sun. You can also install an inflatable pool if necessary.
Finally, don't forget to add some style to your garden by adding one or all of these elements. Don't hesitate to plant decorative shrubs and edible plants to enhance your orchard in particular. Build up plant walls to ensure good air purification and thermal regulation. Ask for the services of a qualified landscaper for all your outdoor landscaping projects if required.