Choosing flowering shrubs for your garden can be confusing, especially if you are new to gardening. There might be a variety of choice at your local nursery, but not every shrub is what you need. The key is to look for low-maintenance flowering shrubs that bloom beautifully and require little maintenance. But they also need to look beautiful! Finding the flowering shrubs that suit your landscape requires a little research, but the interest is enormous. When you take the time to carefully select the best shrubs for your growing conditions, the result is years and years of beautiful flowers.
1. The Date Night Tuxedo Weigela is an excellent choice for gardeners who want both bright foliage and beautiful flowers. And, like all weigelas, the fragrant bell-shaped flowers of this variety are adored by bees and butterflies. But unlike other weigelas, this beauty is hardy down to -34°C and doesn't need a winter to die out. The more it is in the sun, the darker the foliage becomes. More compact than some other weigelas, the Date Night Tuxedo Weigela measures 1 to 2 meters high and 2 to 3 meters wide.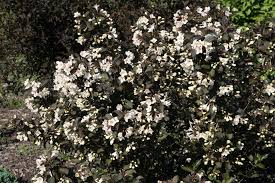 2. Poprocks Rainbow Fizz Spirea is a small flowering shrub for your garden that is only 1 to 2 meters tall and spreading. Its chartreuse foliage with red tips is a real asset for the garden. And then, when the red flower buds open into clusters of fluffy pink flowers, the real show begins! Poprocks Rainbow Fizz Spirea's naturally tight, rounded shape means you won't need to use pruning shears every spring, and with winter hardiness down to -40°C, you won't be able to stop this shrub from blooming. In addition, it is said to be an excellent choice for container gardens.
3. Peach Lemonade Rose is a plant that seems almost too beautiful to be true! But there's no deception here – Peach Lemonade Rose does exactly what it promises to do. It produces multicolored flowers that change from lemon yellow when young to a bright pink as they age. Often both colors are present on the plant at the same time! For a continuous flowering, an occasional stunning is enough. The dark green foliage is also resistant to disease, making this hardy rose a low-maintenance choice.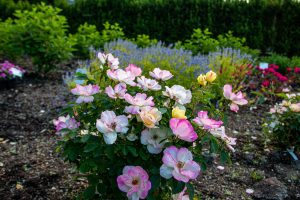 4. The Bella Sol Potentilla is a cultivar of a species native to North America (Potentilla fruticosa), so it is an excellent choice for gardeners who wish to include native plants and their cultivars in the landscape. Like the other flowering shrubs in this post, the Bella Sol Potentilla has been a marvelous addition to my own garden. Beneficial insects and bees love flowers that last a long time, and new flowers are produced fairly regularly throughout the summer, with only occasional stunting necessary. The bright orange flowers are so intense and as this variety is only one meter high, there is absolutely no need to prune it. It is incredibly hardy (down to -46°C) and deer practically put their nose in it.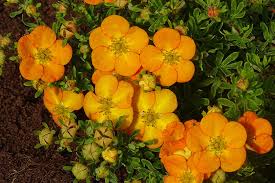 5. It is true that when it comes to flowering shrubs for your garden, I have a weakness for those that attract hummingbirds and that is what FireflyNightglow Diervilla does. It's a northern bush honeysuckle with bright sulfur yellow tubular flowers that really stand out from the dark chocolate red foliage. The low, vase shaped structure of this flowering shrub reaches only 2 to 3 feet in height, making it an excellent choice for foundation plantings and front yard shrub islands. Firefly Nightglow Diervilla is a cultivar of a hybrid created by crossing two species of Diervilla, one native to southeastern North America and the other to the northeast, making it a good choice for you.